Conveniently Located Primary and Urgent Care Practices
OnPoint's Provider Practices are your primary sources of contact for managing your family's healthcare needs, including on-demand Urgent Care services and ongoing routine health care services.
Join the OnPoint Medical Group Circle of Care
Our "Circle of Care" has one primary goal – to keep you and your family healthy. We do this by providing access to a full menu of medical services that serves your entire family from one unified physician group in your neighborhood. With doctors, nurses, specialists, labs and medical records all interlinked and coordinated, your health and wellness have never been in better hands.
Physicians focused exclusively on patient care
Convenience of entire family served in one physician network
Centralized family medical records
Easy in-network referrals
Unified billing and claims management system
Quality – Value – Convenience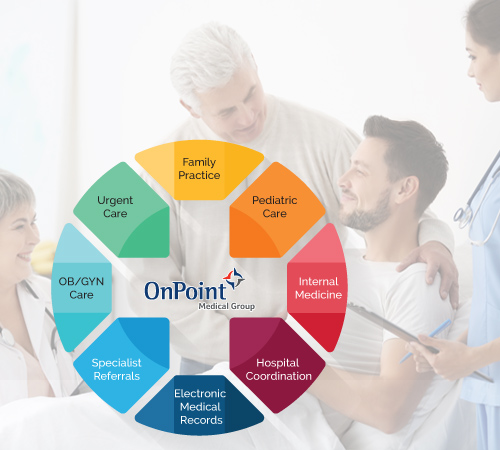 Primary Care Practice Locations
Our practices include internal medicine, urgent care, family practice, ob/gyn, midwives, and pediatrics.
BURROWS INTERNAL MEDICINE
At Burrows Internal Medicine you will meet qualified, experienced healthcare providers who truly care about you and are dedicated to serving the community in which they live and work.
Our providers not only expertly treat acute/chronic illnesses and injuries, they are also strong advocates of preventive healthcare and are dedicated to helping keep you healthy so you can enjoy the things that matter most to you.
LOCATION: LONE TREE
CASTLE PINES FAMILY PRACTICE & URGENT CARE
Providing the very best in family and urgent healthcare for the Castle Pines community – Whenever you need it, right in your own backyard.
Castle Pines Urgent Care and Family Practice is a full-service private practice serving the on-going healthcare needs and the after hour/weekend/urgent care needs of the Castle Pines community. Our goal is to provide the citizens of Castle Pines and the surrounding area with the highest quality care for their medical needs in a friendly and relaxed environment. We believe that the best care is patient-driven care. That means allowing patients to make their own decisions about the direction their care should take. To do that, we provide a comfortable place where patients can discuss their health care needs with their provider and work together to make the best possible decisions. As physicians, we seek to guide people and to help them navigate their unique individual road to health. There are many avenues to each person's apex of health. Together we use all aspects of medicine that are available to figure out how to achieve that goal for each individual.
LOCATION: CASTLE PINES
COLUMBINE FAMILY PRACTICE
Littleton's best choice for routine exams and vaccinations, our focus is always on patient experience and we are able to assist in a wide variety of situations.  Our office specializes in care for the whole family. From pediatrics to geriatrics we can treat everyone in the family for a wide range of reasons. Our providers pride themselves in keeping up to date on the latest changes in healthcare. Each provider takes continuing education classes to be sure we are on the cutting-edge at all times in caring for you and yours. We are also proud to announce the addition of new dermatology and aesthetic services!
LOCATION: LITTLETON
ONPOINT INTERNAL MEDICINE AT HARVARD PARK
OnPoint Internal Medicine at Harvard Park is a group of physicians and specialty providers dedicated to providing comprehensive and preventive medicine.
OnPoint Harvard Park offers the best approach to achieving health, wellness, and balance for all patients. In addition to internal medicine and primary care, we offer cardiology, and gynecology – all in one location! Our on-campus ambulatory services include full imaging, lab, and all therapies. We also now offer on-campus specialty care, when referrals are necessary. All of our providers are highly trained and certified in their respective disciplines and each brings special expertise to care for their patients in a nurturing, cooperative environment where listening to the patient always comes first.
LOCATION: DENVER
ONPOINT INTERNAL MEDICINE AT RIDGELINE
OnPoint Internal Medicine at Ridgeline was founded by Dr. Brita Krabacher. Our clinic is devoted to promoting life-long health using evidence-based medicine. The way we do this is by providing premier person-centric medical care and robust preventive health services. In addition, we have extensive support services, caring and educated staff, and an easy-to-access Patient Portal which contains vital information such as your lab results, as well as vaccine and medical history. Our portal is also securely accessible at any time online.
LOCATION: HIGHLANDS RANCH
LONE TREE FAMILY PRACTICE
Lone Tree Family Practice is proud to serve the Lone Tree, and Castle Rock communities. Here you will find caring Doctors, Nurse Practitioners, Physician Assistants and staff who strive to give you the best possible health care, in a friendly, inviting atmosphere. We take the time to get to know you and truly listen. Nothing makes us happier than keeping you and your family healthy! Above all, we pride ourselves in offering the best possible health care.
LOCATION: LONE TREE
LONE TREE PEDIATRICS
At Lone Tree Pediatrics, you are never just a number. Every child is unique, and every phase of your child's development brings its own joys and challenges. Our commitment is to provide personalized care for your child at every age and through every stage. We listen carefully, communicate clearly and provide exceptional care at every visit – from newborn to young adult. We recognize and celebrate every child's uniqueness and value the relationships we form with our patients and their families. Our pediatric providers, Debra Berry MD, David Roos MD, Lisa Haynes MD, Emily Vangeti MD, Vona Lantz PNP, Rachel Vaivoda PNP, and Lisa Singer NP, along with our experienced staff, look forward to building a relationship with you and your family. Locations in Littleton and Lone Tree Colorado.
LOCATIONS: LITTLETON, LONE TREE
 OnPoint Family Medicine: Denver Tech Center
OnPoint Family Care at the Denver Tech Center (DTC) is a large Family Medicine Practice focused on patients' health and wellbeing, long-term symptom relief, and maximizing your quality of life and longevity. Beyond traditional disease management, we highlight education, personal responsibility, and collaboration, with shared-decision making between patients and providers. Our practice offers comprehensive laboratory testing to detect early disease states and potential health issues to ensure you can optimize your overall future health.
LOCATION: DENVER
ONPOINT FAMILY MEDICINE AT PARKER SQUARE
OnPoint Parker Square provides complete comprehensive medical care close to home! Although each of us tries to take good care of our health, there are the occasional accidents and illnesses which require urgent attention. OnPoint Family Medicine at Parker Square is often available to see patients on a same-day walk-in basis, but please call us to schedule an appointment before arriving. A phone call will assure you the greatest chances of being seen quickly without unnecessary strain during an illness. There are days where the schedule is completely occupied with appointments.
LOCATION: PARKER
ROSE PEDIATRICS
Rose Pediatrics provides comprehensive primary care to pediatric patients up to age 21 and works with a wide array of specialists for any extended care our patients may need.  We continuously strive to adopt new programs and techniques that enhance the care we deliver to our patients, increasing their overall health and satisfaction of care.  We believe your child's health care needs are best met when we work together, in partnership with you.
LOCATIONS: DENVER, HIGHLANDS RANCH
SOUTH DENVER OB/GYN & MIDWIVES
We consider it a privilege to provide health care to women from adolescence through menopause.  In our practice, you will receive the very best in medical care in the front range. We believe in taking a holistic and personal approach to encourage a better quality of life. We have five highly experienced and specialized physicians, five Certified Nurse-Midwives and a Nurse Practitioner. With locations in Littleton and Castle Rock that also serve the Parker, Lone Tree, and Denver metro area. Our website is SouthDenverOBGYN.com if you would like to learn more.
LOCATIONS: LITTLETON, CASTLE ROCK
Urgent Care Locations
Colorado's finest walk-in medical centers. Onpoint urgent care has three metro area locations in Aurora, Highlands Ranch, and Lone Tree.
At OnPoint Urgent Care, our doctors are friendly and experienced caregivers that are comfortable with any age group. Our exceptional staff are second to none, they know their stuff and let it show! Walk in at your convenience 7 days a week. No appointments are ever necessary. Neighborhood centers that are sparkling clean and luxuriously appointed for your comfort. Amenities include Cable TV in every room, a kids area with toys, books and video games, comfortable lodge style seating, and complimentary refreshments. Experience the difference for yourself…the OnPoint Urgent Care difference!