Embrace Your Future
OnPoint Medical Group is looking for Primary Care medical practices with high-quality physicians to add to the family of OnPoint medical providers.  Our members find great satisfaction in aligning themselves with like-minded and team-oriented medical and business professionals.
With shared ownership in their practices, members build equity while gaining the benefits of shared services including group purchasing, professional HR and billing platforms, modern marketing, and a consolidated electronic medical records platform.
Challenges of Independent Primary Care Providers
Medical Economics – poor reimbursements and growing costs driven by:

No leverage with payors
Physician recruitment
Hiring and retention of staff
High medical supply costs
High debt load

Growing complexity with CMS and commercial payors driving need for more sophisticated systems
Regular source of capital for growth and the changing technology requirements
Lack of a viable platform (e.g., EHR, processes) that adapts to a dynamic, changing environment (obsolescence)
Lack of time and energy to properly pinpoint problems
Inadequate process & tools to drive quality and outcomes
Need for partners who are seasoned in billing / collections, strategy, investments, etc.
Benefits of Joining OnPoint Medical Group
Your INDEPENDENCE
Avoids the hospital-driven directives, protocols and standards for greater provider autonomy and decision-making
Retains the "small office" feel
Personal FOCUS
Providers can focus on practicing medicine, enhancing patient relationships and engaging in the local community
OMG takes leadership on the strategic and administrative aspects of the "business of medicine"
Expanding NETWORK
Cross-referral and cross-marketing among the network and within the community ("hyper-local")
Providers are focused and "invested" in both the network and their clinics
Real CAPITAL
Private Equity-backed
Deep resources to reward excellence / results and growth opportunity
Complete PLATFORM
Unified technology, processes, business model, tools, ancillary services
Lower cost, patient-centric care model focuses on high quality outcomes and processes for managing overall health system costs (e.g., primary care + urgent care vs. emergency room vs. in-patient care facilities)
Proven RESULTS
Superior fee-for-service and appropriate risk-based reimbursements from payers through focus on quality and patient outcomes
Realize value for your practice today while retaining an ongoing interest in future cash flows
Opportunities for all Providers (owners/partners and employed) to secure improved compensation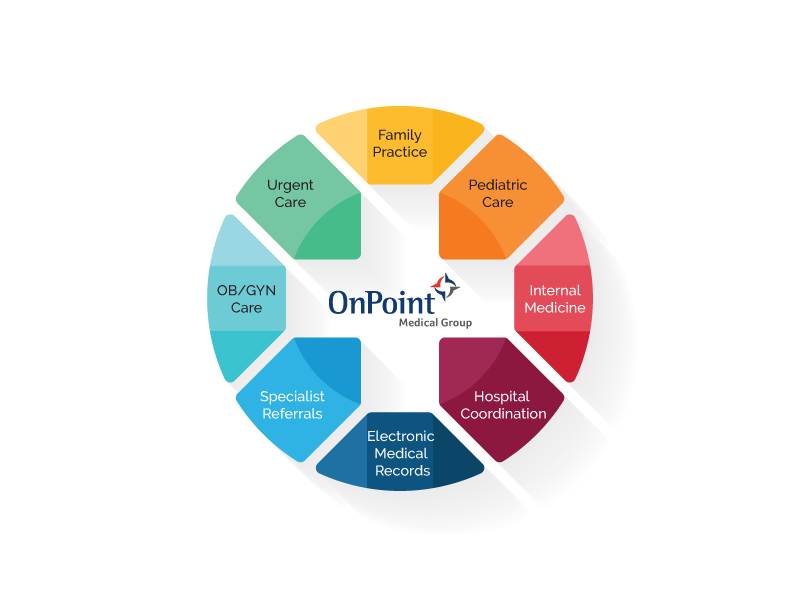 OnPoint Medical Group Circle of Care
Our "Circle of Care" has one primary goal – to ensure the health and wellness of members and their families. We do this by providing access to a comprehensive menu of medical services from one unified physician group in their neighborhoods.
With doctors, nurses, specialists, labs and medical records all interlinked and coordinated, patient care has never been in better hands.
"OnPoint Medical Group providers practice from offices that are conveniently located in neighborhood centers and work with accessible office hours.  Practices include internal medicine, urgent care, family practice, OB/GYN, and pediatrics. It is great to work with experienced doctors providing a wide scope of services."